See on Scoop.it – Counselling and Mental Health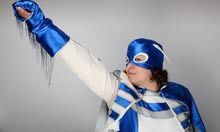 Jessica Thom squeaks, swears, beats her chest and laughs.
No one really knows what causes Tourette's syndrome, but it's believed to be an inherited genetic condition involving an imbalance in the function of the brain's neurotransmitters. It's thought that between 200,000 and 300,000 people in the UK have Tourette's to one degree or another. When I say people, it's mainly men – about four times more men than women, in fact. So that means I really stand out. All my tics are involuntary and I tic hundreds of times a day, so I'm rarely still or quiet.
For the last five years I've kept track of my regular tics, the ones I say or do over and over again (for months or even years on end). Until now, though, I've never paid much attention to the tics I don't repeat all the time. These occur every day, and I might only say them once or a handful of times. Some can be linked to or triggered by specific situations or sounds, but the majority are random. Recently I've started to record these one-off tics. Below is today's selection: "Careless whisper costs £1"; "Long division killed your soul"; "Jim Davidson killed your soul"; "Les Dennis or Margaret Thatcher? Choose".
See on www.guardian.co.uk